If you recall I front the world's greatest punk cover band, Fucking Bullshit and while most cover bands are just for fun and kind of a joke, I take my band way too fucking seriously. I have wanted to be in a band my entire life and it turns out I am pretty good at it. I might not have any musical talent but I can put on a mother fucking show and to me that is 95% of live music. You may never get a chance to buy an album from us but we are pretty worth seeing. (And you can always get a T-shirt!) During the show at Lit I broke a bottle of beer, picked up part of the glass and cut my chest with it. I don't enjoy pain and I have never cut myself before, but the ghosts of GG Allin and Darby Crash took hold. Who fucking knows what I will do for the next show…
When it comes to having a band the best thing about being a photographer is that you have a lot of photographer friends. Two of my favorite photographers (both in quality of work and quality of people) brought their cameras to our recent show at Lit Lounge.
Steve Prue is a commercial photographer who also happens to shoot a lot of naked girls. He and I have shot so many of the same girls it's not even funny. His portrait work is a lot better than mine, but he likes my event work better than his so we are somehow even. Great dude and great photographer. He dragged the hell out of his shutter and tried to get the hell out of my way and got some wild pictures from my show.
Tod Seelie is a guy that you never need to worry about him getting the hell out of the way. Tod has shot some of the craziest bands and events I have ever seen and does it better than anyone. For a guy who shoots mostly 20 something white people he puts himself in a lot of danger to get the shot. If you crossed a party photographer with a war photographer you would get Tod. I was an honor to have him shoot my band and post it on his website with all the other insane bands he shoots.
Tod's best of shots can be found here and the entire gallery of images can be found over here. As far as Steve's shots go I posted my favorites below and the rest you can find on the Fucking Bullshit Facebook page.
Thanks a lot to both of the guys and make sure to check out my favorite shots and a video of our "encore" below – Body Count's legendary track "Cop Killer".
Ps. Fucking Bullshit is playing again THIS SUNDAY at LuLu's in Greenpoint. I don't have the details but Like us on Facebook and you will be in the know!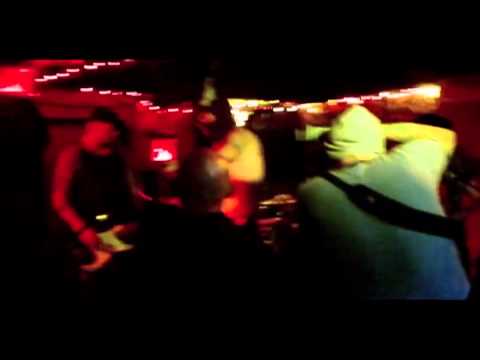 Related Posts:
Comments (0)