Today we are going to take a break from photos and just regale you with stories.  I was thinking about what I was going to update with today and I realized I didn't really have anything which led me to realize that I haven't shot many parties or anything really. But I feel like the last week or so has been pretty productive and interesting so I guess I will just tell you a few stories and you will just have to imagine the pictures in your head… at least until I get my film developed.
I think my week of reasonable productivity began last Sunday when I photographed Veruca James naked in public.  Those are the last pictures I took that you have actually seen.  On that shoot I found out that my friend Colin had died two weeks prior and no one had told me. I missed the Facebook invite to his funeral. I was on very little sleep and while I had been expecting his death for some time it really had an effect on me. I had been planning a trip to Virginia to go to his memorial service for a few months ever since he checked into hospice and finding out that he died and I didn't know about it really fucked up my head.  I wanted to see a movie to get my mind of things so I tried to get my friend Promise to go see Pirates 4 with me because it would allow me to zone out for a while but she wanted to see something with a little more substance so we went and checked out a movie called Blank City about the No Wave and Cinema of Transgression underground NYC film movements of the late 70′s and early 80′s.  The movie was so inspiring and so depressing to me. Here were these people making so much art and collaborating and just living in NYC when it was this burned out shell of a place where you could live for $50 a month. And here I am 30 years later taking photos of drunk people instead of making something relevant or important.
So this post ended up being obscenely long so I need to create a jump. If you want to keep reading click below unless of course you came to this post directly making these instructions just confusing and unnecessary.
Fueled by energy drinks and lack of sleep I hit the streets of NYC trying to take photos and talk to people and try to do something that seemed to me to be more meaningful than the bullshit I have been doing. Boy N Girl and Trouble Andrew were doing a show at the Canal Room and so I brought three film cameras with me and left my digital at home. I grabbed a roll of film that expired in 1998 and a few rolls of black and white and went down to the show.  I kept talking to people about the meaning of art and I shot off a few rolls of film back stage that will probably be terrible but it seemed somehow more important at the time.  I came up with an idea for a movie and made out with this girl I have had a crush on for like three years and then went over to Sway for last call. I love Sway on Sundays because even if I only go there once every six months there are always new and different people that seem really happy to see me. The door guy excitedly Q hugged me on the way in and I knew it was going to be a fun few moments before the club kicked us all out.  I ended up getting in a conversation with DJ Fancy that was very inspiring in itself and we stayed there until way after four only leaving when all the lights were turned off.  We decided to start doing dinners at his place and only inviting the few actually interesting people we know to try to foster some conversations other than the "Sup yo?" conversations that we have in night clubs 20 times a night.
Monday was productive on a personal level and I got a lot done but nothing really worth talking about.  That night I ended up meeting Veruca and her Chicagoland crew out and taking a bunch of crazy photos in bathroom that you will see some of one day. We ended up hanging out on the roof of the Burning Angel building until sunrise.
The next day I slept for a long time and did almost nothing all day. It was so antithetical to the previous days. Some people blame my moodiness on my Gemini birth but I am sure everyone is like that to some degree. I was awake for a few hours and I remember thinking I wanted to go to the #PPP party or Le Bain or to the Wolf Party and it seemed like I was going to actually do something but I slept until midnight and I woke up feeling awful and ended up talking to two friends from Canada on Skype until 2am. At this point I watched movies until 6am and then I decided since I wasted my entire Tuesday I would need to get my shit together and I actually went on a jog for the first time in… ever really. I made it about 8 blocks and then I felt like I was going to puke. Two days later my legs still hurt.  On a positive note I have lost 9lbs in the last two weeks. Just 10 more to go and I will be back to my fighting weight.
After my run I slept for about three hours and headed up to Long Island City to check out my friend Lena Dunham's TV show that she is doing for HBO called "Girls". You perhaps have read about Lena on my site before. She is a friend of mine who made a hilarious super low budget film called Tiny Furniture with some friends, shooting it mostly in her parents apartment. It won the Best Narrative Feature award at the 2010 SXSW Film Fest and I was there to document the whole thing. It was really exciting to have a friend blow up like that in an instant and I signed on to run the Tiny Furniture twitter account for her. Since the movie came out Judd Apatow saw it and they went to HBO and eventually sold their pilot.  Lena is writing, starring and producing the damn thing and I could not be more proud of her.
So she invited me to check out the set the other day and I got to watch them spend about 7 hours shooting roughly 90 seconds of screen time that involved Lena awkwardly watching someone masturbate complete with a fake dick and fake cum shot.  The whole thing was completely absurd but I have a feeling it will be really funny and not even in a gross out way.  The funniest parts are Lena's reaction shots to the whole thing. It was great to see Lena again and I had some good conversations with producer Jennifer Konner and talked Twitter with episode director Jesse Peretz. I got to talk to the still photographer a bunch who shoots with the same camera I do. She was pretty great and showed me this insane contraption that goes around her camera so it doesn't make any noise during the takes. Plus Lena's assistant and I spent a while talking about how weird it was to see shitty Brooklyn apartments recreated on a sound stage and all the insanity that goes into creating a big budget show.  It must be so weird for Lena to go from shooting a movie on a DSLR in her parents house to shooting with two cameras on a huge set with 50 people working for her at any given time.  I am excited to come back to the show to play a party photographer extra in a episode that takes place in a Brooklyn night club. Seems appropriate.
Later that night I was exhausted and ready to go to sleep by 10pm but I was reminded by Twitter that photographer Dave Naz was in town for his lady's book release party. Oriana Small aka Ashley Blue wrote a book about sex and the sex industry called Girlvert and had her opening at Powerhouse Books Arena. I have talked to Dave a lot online and we did a print trade but I had never met him in real life so I got my shit together and jumped in a cab to Dumbo. I had a bunch of great conversations there and got to meet Dave and legendary photographer/photo editor George Pitts. I had my longest conversation to date with Bob Coulter and briefly caught up with JM Darling and his lady. It was really great to talk to these very established erotic photographers and show them some of my 35mm work that no one has seen. Dave and Bob seemed really into the work which was super encouraging and everyone gave me ideas for publishing. Also Orina signed my copy of her book with a giant dick and ended up being cool as shit so you should fucking buy her book already.
Now this update is getting absurdly long so I am just going to quickly mention that I went down to the Vice Mag/VBS.tv offices for the filming of a new Off! video.  Off! is Keith Morris' new punk band and they are fucking awesome. I saw them at SXSW and they blew me a way. I have started this punk cover band and we do two Keith Morris songs, Depression by Black Flag and Live Fast Die Young by the Circle Jerks. I figured I should pay tribute to this legend (Who once sent me a very thoughtful thank you note after I photographed the Circle Jerks) by trying to help out with the video.  They filmed each person who showed up to the video shoot one by one spitting colored Jello and water out of their mouths into a baby pool. I am kinda boring looking so I knew if I had any chance to be in the video I would have to really kill it so when it was my turn to spit I put my hand up to my mouth like I was trying to hold it in and spit it as hard as I could into my open hand sending jello and water all over the fucking place and coating my face with sticky redness. I washed it off but hours later I could still feel this stickiness on my eyelids.  It was a lot of fun.
Anyway, this post was so epic and probably painfully boring for anyone not desperately interested in my personal life so to make that up to you I am going to leave you with some fun and related videos.  Enjoy!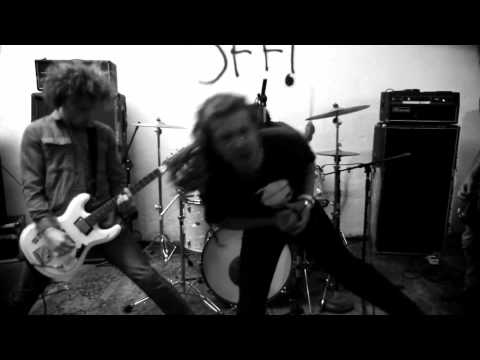 Related Posts:
Comments (0)