Here is some more madness from the NFL Draft.
While I was waiting in line I heard some chants of "Fuck Tom Brady".  I turned to see who people were shouting at and it was some asshole holding a mic wearing a hideous Tom Bundchen Brady throwback jersey. As I began to shout obscenities at both him and the Jets fans he was talking to I realized it was none other than comedian Nick Stevens a guy who I vaguely knew years ago when I was hanging out in the NYC comedy scene.  I at once started chanting "Fuck Nick Stevens" but for some reason the chant didn't really catch on.
Nick was interviewing people as Paul "Fitzy" Fitzgerald, an asshole Boston sports fan (ed note: redundant).  It's pretty much a given that the only thing worse than a Philly sports fan is a Boston sports fan and Nick plays the heel well.  I mean seriously, the Patriots were garbage for thity fucking years and all of a sudden everyone in Boston acts like they are life long die hard Pats fans.  Where the fuck were you guys when Marino was embarassing all of New England touchdown by touchdown? And don't get me fucking started on those low life Red Sox fans… Honestly I don't give a shit about basketball but I route against the Celtics just because I know when they lose another douche bag Pats/Sox homer is crying himself to sleep somewhere north of NYC. Fuck you all.
Oh, sorry, I was on a tiny tangent.  Fitzy is actually a pretty fucking funny dude, and is well aware of the contempt the rest of NFL fans have for him and his ilk. I hope after the Caps win a few Stanley Cups I can feel the same wrath on the way to MSG to watch Ovechkin make Sean Avery cry orange and blue tears.
Shit, again, off on a tangent.  Just watch this video, it's really funny if you like football, and if not, you can just watch me dressed up like a skinny jeans wearing jock making a fool of my self.  I show up in the background a few times, but I have speaking rolls around 2:35 and again at 3:24. Enjoy.
PS. Fuck the Bruins too.  Just sayin'.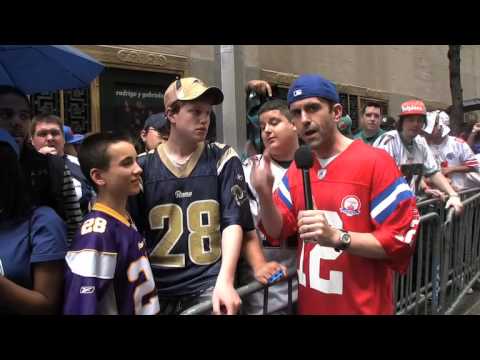 Related Posts:
Comments (0)